Dental Office Data Security
Data security and privacy seem to be in the news almost daily. From hacks into various government sites to the latest credit card leaks with major retailers, we are reminded that understanding the risks of data ownership is imperative in today's digital age. Dental Office data,

especially patient data,

must be secure by implementing a proper security plan.
What Level of Security Do You Need?
Before you create a plan to secure your practice data, you should first understand the elements that comprise sufficient security within the context of protecting the patient. Just as the patient's health comes first, so should the patient's privacy. As a dentist, you should review the ADA Complete HIPAA Compliance Kit and the AMA HIPAA Security Rule FAQ for in-depth information about how to comply with HIPAA regulations, notification requirements for a breach, types of encryption and what types of information need protection.
Complete Practice Security—Office, Computer, Network, Policies, and Training
When implementing a security plan, you should consider multiple safeguards for data access and data use. Henry Schein strongly encourages practices to work with both computer and security-policy experts to help create and implement a comprehensive security plan, which should include:
Dental Office data security means physically securing computers and servers that hold practice data in a safe area of the office to guard against theft.
Computer and network security requires that you use proper passwords, enable anti-virus software, and restrict software, network and Internet access. Be sure you use Dentrix passwords and access rights to help secure the Dentrix system and ensure proper role-based access. Proper network, firewall, Wi-Fi, mobile access and internet security are all required to protect your data, including patient data, and computer systems from outside threats and Internet attacks.
Written employee policies should be an integral part of every practice. Create policies that will ensure your practice is compliant with regulations and post the policies so each employee understands his or her responsibility. Include policies for passwords, maintaining patient confidentiality, and office security.
Employee training includes teaching staff members your security policies. Ensure they understand HIPAA, other regulations, and the important role they play in your ability to protect the patient's data. Meet periodically with your staff to remind them of their responsibilities and to monitor their compliance.
At Orange County Computer®, we offer several layers of dental office data security options. If you suspect that your dental office may be at risk, or if you would like to learn more about our Dental IT Services, contact the Cyber Security Experts at Orange County Computer® for a complete assessment. Call our Tech Center at (949) 699-6619 for an appointment or visit us online . We are happy to help.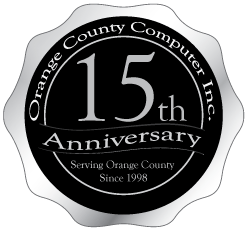 Information originally obtained from Dentrix's Rhett Burnham. View the story here.