Looking for a Windows 10 Download? You're Out of Luck!
On January 31st, Microsoft stopped the direct sale of Windows 10 licenses on its website. Product pages for Windows 10 Home and Pro versions included subtle disclaimers weeks prior to the end of the month. And although Microsoft will continue to support Windows 10 through fall of 2025, the tech giant urges anyone buying or building a PC to use Windows 11 instead. In fact, the same product pages mentioned are now (basically) Windows 11 transition support pages.
And we agree. At Orange County Computer, we highly recommend upgrading to Windows 11 if you're able to, as soon as possible. Read on to learn more about the future of Windows 10 and why you should consider upgrading your OS to the latest version.
Why did Microsoft pull its Windows 10 license downloads?
All Microsoft products have a lifecycle policy. With the release of a newer version, a timeline for sunsetting the older one is to be expected. In this case, the removal of Windows 10 downloads is a signal that they're focusing development efforts on Windows 11.
The good news for Windows 10 users is that Microsoft will continue to support the OS until October 14th, 2025. Yearly feature updates will still be available. Most importantly, any of the latest security updates and patches will protect your device from lurking cyberthreats.
But aren't there retailers who still sell Windows 10 licenses? What about new devices with Windows 10 already loaded onto them?
According to The Verge, Microsoft has yet to comment on the continued availability of the Windows 10 operating system in the wild. At the time of this writing, both retailers online and in-store still have Windows 10 downloads and licenses available for purchase. This includes any devices with Windows 10 already loaded into them. It's possible that license keys as well as systems with the OS preinstalled will be available for some time.
But if you plan to use Windows 10 for a new PC build, be wary of the parts you purchase. The same applies if you're buying a pre-built computer or laptop. Check if the hardware is compatible with Windows 11 for when you decide to upgrade. Otherwise, you'll have to deal with your business PCs not being compliant down the road. Or you could find yourself spending more money upgrading or replacing hardware for your already powerful gaming rig.
If you're not sure if your current device or company's systems are upgradable, don't hesitate to reach out to us. We're happy to evaluate your environment and customize solutions for you so you can continue to focus on your business.
What if I'm still on Windows 7 or 8.1?
Upgrade to Windows 10 immediately. In fact, Windows 7 and 8.1 received their final security patches early January, so it's extremely important to do so. Although Microsoft officially stopped offering free upgrades back in 2016, they never took steps to stop the upgrades from working. These unsupported operating systems pose a security risk, so check for updates and install Windows 10 today at no cost.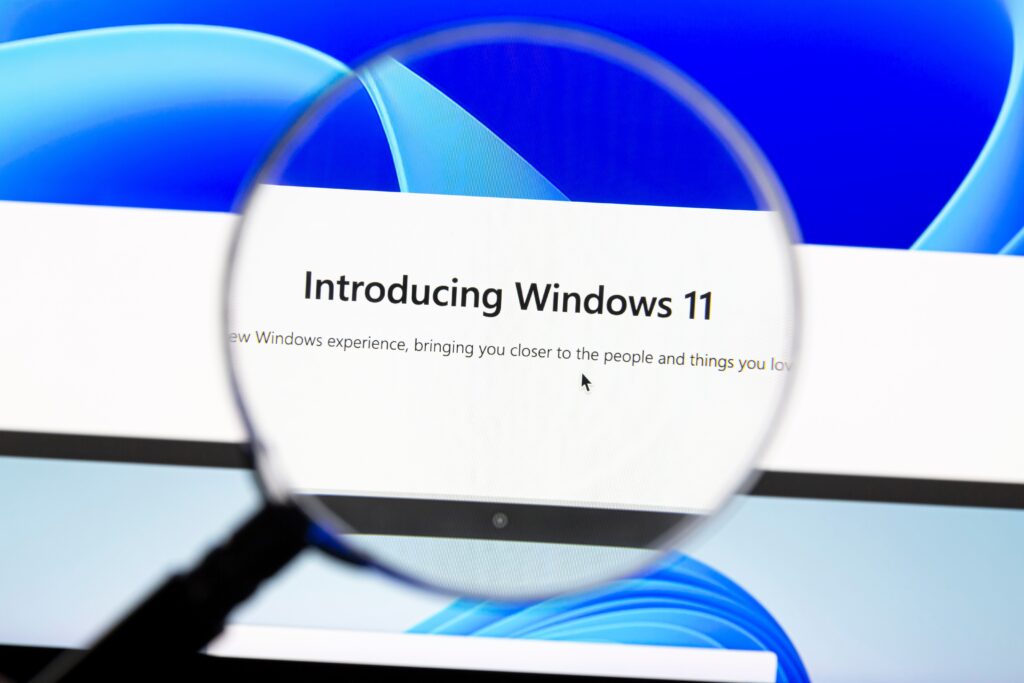 So, what are the advantages of upgrading to Windows 11?
Comparisons of the two operating systems often note aesthetic differences. We want to highlight the better performance and security features that come with Windows 11 compared to Windows 10.
Performance
Windows 10 has a lot of extra apps running in the background. In Windows 11, fewer background applications and processes run by default. Microsoft also updated resource allocation with the newer OS, in which it prioritizes apps that are actively in use. This should ensure that these apps get more processing power over other system resources. Waking up your computer from sleep mode should also be faster, due to data held in the memory (RAM). Boosted solid-state drive speeds also come with the most recent Windows 11 update.
Security
Microsoft designed Windows 11 with the new security challenges of the hybrid work environment in mind. The new 22H2 update enables more security features by default. Below are notable improvements from Windows 10 OS.
Phishing Protection: If a user enters credentials into a known phishing or malicious site, a notification pops up and suggests that the user change their password. A notification pops up if a password is reused as well, warning the user that it's a security risk. If passwords are saved in any word processing applications, a notification pops up advising it's unsafe to do so. Phishing Protection can be configured in Enterprise environments (work, school).
UEFI Secure Boot: This guards against attacks during system start-up by making sure the PC only boots up with code from trusted sources. This could be Microsoft, the chip maker, PC manufacturer, etc.
Passwordless Access: This confirms a user's identity using a fingerprint, facial recognition, or pin. Going passwordless using alternative sign-in methods is more secure than traditional passwords which can be guessed, stolen, or hacked.
Account Lockout Policy Changes: The latest Windows 11 update comes with expanded brute force attack protection. It locks the system after a specific number of failed attempts at guessing a local password. This feature may not be enabled by default, so IT admins need to be sure it's toggled on.
SmartApp Control for Applications: This feature is aimed at blocking untrusted and unwanted apps, even when third-party antivirus or Windows security is turned off.
Still not sure if you want to or should upgrade?
Microsoft pulling Windows 10 downloads from their site means they're slowly bidding farewell to 11's predecessor. So, whether it's evaluating your fleet of business PCs and servers, or need an individual device looked at and optimized, we're happy to help! We can help upgrade your current system to Windows 11. If your machine is too old to upgrade, our team can help you choose a replacement or build you a custom PC. We also offer data transfer and cloning services to smoothly migrate your data and make the upgrade process easier for you.
In addition, we offer a virtual desktop solution, housed in our secure and private cloud environment. It provides for the flexibility to work from anywhere and would eliminate the need to move your data from one physical device to another. Regardless of your individual needs, our experts can help find suitable devices and solutions that work for your company.
Please don't hesitate to contact us via email or phone at (949) 522-7709 to assist you with this process. We are proud to be your IT experts and local Cloud Services Provider here in Orange County, California. Call us today!
Nicole is an Office Administrator at Orange County Computer and has been with the company since 2021.