O.C.C. at CAMP PENDLETON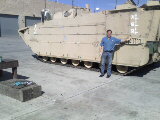 Orange County Computer® travels to CAMP PENDLETON, the Amphibious Vehicle Test Branch, (AVTB).
OCC, INC. was hired to setup and install 4 HP proliant DL 185 storage servers running Windows 2003 Storage server.
4 rack mount servers were installed with 12 TB of storage each.
Theses servers are designed to support range facilities to conduct live-fire testing of vehicular armament and weapons systems. Training facilities, operating areas, and ranges are all under U.S. Marine Corps control. AVTB is in close proximity to San Clemente Island, which can be used for live-fire sea-to-shore testing and high-speed water testing.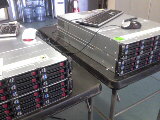 Alex Pinedo a Senior technicians encountered a bizarre problem with the HP Proliant DL185 Backup Servers at Camp Pendlton. We had to swap out all of the 500GB Hard Drives with 750 GB Drives as HP did not process the client's original order properly. After the 500GB Drives were replaced with 750GB Drives, the technician was having issues getting the system to function with the new hard drives. The first 2 slots are for the Operating System. The restore disk did not work with the different sized hard drives. After sitting on the phone with Sr. Level Tech Support at HP, he asked if the Senior Level technician assigned to help HP Partners with the HP Proliant DL185 and the technician relied "yes".
Oddly enough, the HP Technician was unable to assist the Orange County Computer® Technician in resolving ths issue. The HP Tech said that he needed to "Google It". At that point, the competent Orange County Computer® Technician declined further support and was able to resolve the issue on his own, without having to "Google It". It turned out that when the HP Proliant Servers are configured, the Restore Disks are specifically configured to only work with the configuration that it was originally designed with. The resolution to this problem was that the Operating System Hard Drives were not able to be swapped out due to the factory configuration but the rest of the storage drives were swappable. So word to the wise: "Be leary in seeking helpful and useful knowledge from the manufacturer's technical support" it is not that impressive! If you require competent technical support, think of Orange County Computer®, we are highly trained and knowledgeable in working on every brand name hardware system. We also specialize in supporting many different proprietary software applications.
Contact our Sales Team for a Complimentary Network Evaluation at (949) 699-6619 or Contact Us
Orange County Computer® is your Comprehensive IT Solutions Provider.
Follow us on: