The hybrid work model and why it's here to stay
Since Spring of 2020, we at Orange County Computer have seen a huge increase in clients migrating into our Cloud. New mandatory working options were necessary either due to state mandates or individual illness. Because of that, companies needed to turn to tech solutions suited for transitioning to the hybrid work model.
Hybrid workplaces existed well before COVID-19, with some businesses allowing their employees to work outside of the office occasionally already. This commonly known hybrid work model structure is "Office-first, remote allowed" respectively. With the onset of the pandemic, a hasty shift to hybrid work for many employees across industries became a necessity. The global health crisis pushed companies to create new processes and seek out the needed IT infrastructure to support a hybrid workplace. Since March 2020, some countries have gradually lifted their restrictions, but workers have not returned to the office completely. More employees now work in this hybrid work climate than before, with a mix of work-from-home and in-office arrangements. And for the near future, it looks like it's here to stay.
The hybrid work model: the future of the workplace
According to Howspace, regardless of which hybrid work model structure a company adopts, hybrid work is the future of the workplace. Over the last two years, "work-from-home" and "hybrid remote work" are terms we now commonly use in our daily lives. Friends or family members have set up spaces in their households for when they're not onsite at the office. Perhaps the company you work for switched over to working from home completely. Whatever the case, the hybrid work model proves to have several benefits. In an article that MIT Technology Review published in association with Dell, the benefits of working from anywhere include happier and more productive, collaborative employees. They note increased satisfaction and well-being, improved efficiency, and decreased operating costs as additional positives.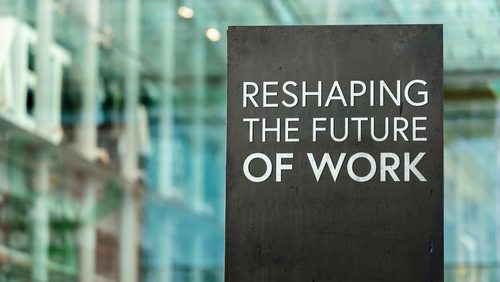 Company culture and workplace engagement is only one piece of the puzzle. Equally important are the tech tools businesses need to successfully set up a hybrid work environment. Securing a productive team with remote tools, collaboration applications, and data protection and IT security solutions are also necessary when transitioning to a hybrid work environment. Our team at Orange County Computer would be more than happy to help you implement these solutions tailored to your business' needs.
How to adapt your business to meet this new normal
Companies worldwide adapting to the hybrid work model highlights an increased reliance on technology unseen before the pandemic. For collaboration, employees utilize applications like those on Google Drive and Microsoft's Office 365. Businesses heavily use Zoom or Cisco WebEx for projects and teleconferencing. To enable teams to work remotely, migration to the Cloud and the use of Cloud Solutions has become and continues to be a necessity.
The COVID-19 crisis brought an unprecedented shift to hybrid work and continues to be the new normal. Working in the cloud is one of the few ways that businesses can move forward during this time. Your company can continue to work as usual while following the recommendations made by the CDC and the WHO to minimize public exposure and keep employees safe. Businesses can focus on goals and projects rather than worry about how they will accomplish things as the pandemic persists. Meet deadlines and quotas on projects and sales by implementing a Virtual Desktop or Hosted Mail Exchange solution for your company today by contacting a member of our team at (949) 522-7709. Prepare now and for the future, move to the Cloud today! Stay well by working remotely!
You might also like