orange county computer inc launches new website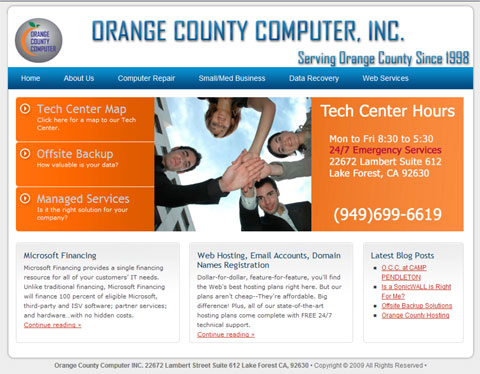 Orange County Computer®, Inc. just launched a new and improved company website. "We changed the site and implemented a new design which we feel will effectively inform our clients about the wide array of services we provide. The latest tools were applied, including social networking, blogging, live chat and a help desk ticket system (coming soon), just some of the several changes we made to our site", says Alex Pinedo, CEO and Managing Partner. A website should accurately reflect the company's scope of service. Thus, as an IT Company, our website reflects the latest design options with all relevant bells and whistles. We still have our online technology store but it has been removed from the new site and replaced with a link instead. The services we provide are so vast that the on-line store needed to be isolated from the Comprehensive IT Solutions we provide.
Does your company website accurately portray the services that you provide?
If you aren't sure, give us a call and we will gladly give you with some feedback.
So what is next? Integrated Video Messages are currently in production and will be uploaded to the new site soon, so stay tuned! For more information, contact us via sales@orangecountycomputer.com or call us at (949) 699-6619.

Orange County Computer® has been providing quality IT Services to businesses in South County since 1998. If you are ready to work with an IT team that provides comprehensive solutions and eliminates those on-going issues, we are happy to help.
Contact our Sales Team for a website evaluation for your business at (949) 699-6619 or Contact Us
Orange County Computer® is your Comprehensive IT Solutions Provider.