Don't be Fooled by the Latest Phishing Attempts
Within the last week we here at Orange County Computer there have been an influx of phishing scams, specifically 'Sextortion' scams, that have been reported to us. With this scam, victims receive an email from the scammer stating that they have access to all your accounts, passwords, that they have infected the PC with a virus after having visited an adult website. It goes on to say that the victim has been recorded "in the act" via webcam.
What is particularly disturbing to the victim is that the emails come from what appears to be the victims own email, and lists one of their passwords. This appears to be quite convincing and creates panic. The victim is then instructed to pay a bribe in bitcoin in exchange for silence and a promise to erase all the data they collected.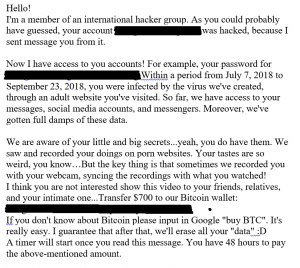 It is unclear how the scammers gained access to the email addresses and passwords. It is believed they came from a list of previously leaked addresses. A UK government group Action Fraud ran tests on the affected emails through a website 'Have I Been Pwnd' site. Most of those affected were on the database.
If you have received this email, rest assured that no one has any compromising video of you. It is important however to to change your email password of the affected email. Secondly, you can check the website Have I Been Pwnd to see if there are any more incidents of breaches. Remember, you should never re-use the same password on multiple sites. We recommend using a Password Manager to create and secure passwords for you.
If your email has been breached, have been a victim of a phishing scam and have concerns about your system and how to implement the latest security for you devices, contact one of our techs at Orange County Computer 949-699-6619 or email us at support@orangecountycomputer.com