Google Chrome Users, it's Time to Say Goodbye to Windows 7
Is Google Chrome your web browser of choice? Are you a Windows 7 or 8.1 user? Google and Microsoft will unfortunately be ending support for older Windows operating systems in early 2023. Users won't be able to use Chrome with the latest features and security patches after the most recent update. Similarly, Microsoft will no longer provide technical support for Windows 7 and 8.1, nor will users receive critical fixes. Want to continue using Chrome? Read on to learn why you'll need to upgrade your system to do so, why it's also important for cybersecurity reasons, and how we can assist you in upgrading and securing a new device.
Google Follows Windows' Lifecycle Policy
On January 10th, 2023, Microsoft will end support for Windows 7 and 8.1. Although mainstream support end dates were in 2020 and 2018 respectively, over 10% of all Windows systems worldwide still run Windows 7. In contrast, Windows 8.1 is only running on 2.7% percent of PCs. Since then, both operating systems have received limited security updates through the ESU (7) and extended support programs (8.1). After these support lifelines end, users won't be able to reach out to Microsoft for technical or software support for any concerns that come up.
In step with Microsoft, Google is also slated to end Chrome web browser support for these older operating systems. According to a Google Help Page, Chrome version 109 will be the last to support the two older Microsoft operating systems. Version 110 is tentatively scheduled for release on February 7th, 2023. It will be the first new version that requires Windows 10 or 11. Any Chrome release from version 110 onwards will require a newer device.
But do I really need to upgrade my system to continue using Google Chrome?
We highly recommend it. Older versions of Google Chrome will continue to work but will lack the new features and critical updates that version 110 and newer will get.
Google Chrome tops the list as the most widely used web browser, with a market share of 65%. This also makes it a prime target for cybercriminals. In fact, the browser has recently suffered many critical vulnerabilities, including about a dozen zero-day attacks. To protect users, monthly patches for these Chrome zero-day vulnerabilities have been released since July. The first line of defense against a cyberattack is to update applications and systems. Chrome luckily automatically updates itself. By early 2023 though, those automatic updates will end, and your PC will be susceptible to cyberthreats via an outdated browser.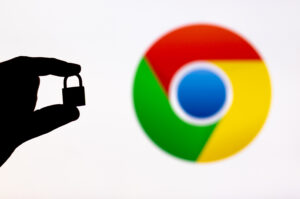 Likewise, your computer running Windows 7 or 8.1 will continue to function, but both operating systems will no longer receive important security fixes. Microsoft will no longer offer technical assistance or software updates. Your system will be out-of-service and performance will eventually degrade. And as mentioned above with Chrome, Microsoft's end of support leaves the device at higher risk for viruses and malware infections as well as data compromise.
Continuing to use both an unsupported web browser and unsupported operating system highly increases a user or organization's security risks. It may also prevent an organization from meeting compliance regulations. Upgrade to a newer device before the support deadlines to avoid these issues. Enjoy the latest features and security utilities Microsoft has to offer on Windows 10 or 11. Most importantly, continue to enjoy surfing the web on Google Chrome.
Let us help you find or build your next computer!
Whether for personal or business purposes, we would be more than happy to evaluate your needs and help upgrade your devices to Windows 10 or 11. We at Orange County Computer are enthusiastic about custom builds. Whether it's for the avid gamer, general home user, or for small business use, we can customize a desktop for you based on productivity preferences, aesthetics, and more. Or if you're in need of a portable system, we'll find a laptop best suited to your workflow. Most importantly, we'll ensure you're able to run newer versions of Google Chrome on it!
If your organization's fleet of machines still run Windows 7 or 8.1, our team can help upgrade your systems and smoothly migrate your data. In addition, we also offer a virtual desktop solution, housed in our secure and private cloud environment. It provides for the flexibility to work from anywhere and would eliminate the need to move your data from one physical device to another. Regardless of your individual needs, our experts can help find suitable devices and solutions that work for your company.
For more information on how we can be of service to you, please don't hesitate to contact our team via email or phone at (949) 522-7709. We are proud to be your IT experts and local Cloud Services Provider here in Orange County, California. Call us today!
Nicole is an Office Administrator at Orange County Computer and has been with the company since 2021.