'Tis the season… to avoid holiday scams!
As the holiday season comes to a close, you may be scrambling to find the perfect gift for a loved one. Don't know what to get? Maybe you're looking at gift cards for them to use at their favorite restaurant or retail store. Whatever the case, you'll most likely be using the internet to help you. But beware: holiday scams spoil everyone's fun and have been making the rounds since Black Friday.
Read on to learn about the most common scams to watch out for as you browse the web through your computer or mobile devices. Be extra diligent, protect your personal information and data from fraud and theft, and don't hesitate to contact our team if you've been a victim of malware, ransomware, or need assistance securing your devices!
Work From Home Scams
Those looking to earn extra money leading up to the holidays might find remote work postings tempting. These job opportunities use convenience as a selling point, but the "employer" may instead have devious intentions. Beware of bogus ads and fake job hunt sites. Be sure to search and screen the company offering employment. Postings may contain typos, inaccurate information, or other red flags. Don't proceed if they ask you to interview via a messaging app, like Telegram or WhatsApp. And think twice before submitting your resume or other personal sensitive information to anyone online. You may end up becoming a victim of identity theft or credit card fraud.
Fake Smartphone Apps
Many of us will be using mobile phone apps from retailers to find that special present this holiday season. What you think is a legitimate app may actually be a front for something designed to steal your information. Do your best to research the company behind the app and read reviews of it. Check the installation count and how long it's been available. Make sure an app from a big retailer doesn't look "off" before downloading it. Check to see when the last available update was and if it's still supported. Lastly, be wary of alternative app websites for "jailbroken" or "rooted devices". These sources may have offerings that include stolen content, distorted versions of common apps, or may be violating copyright laws.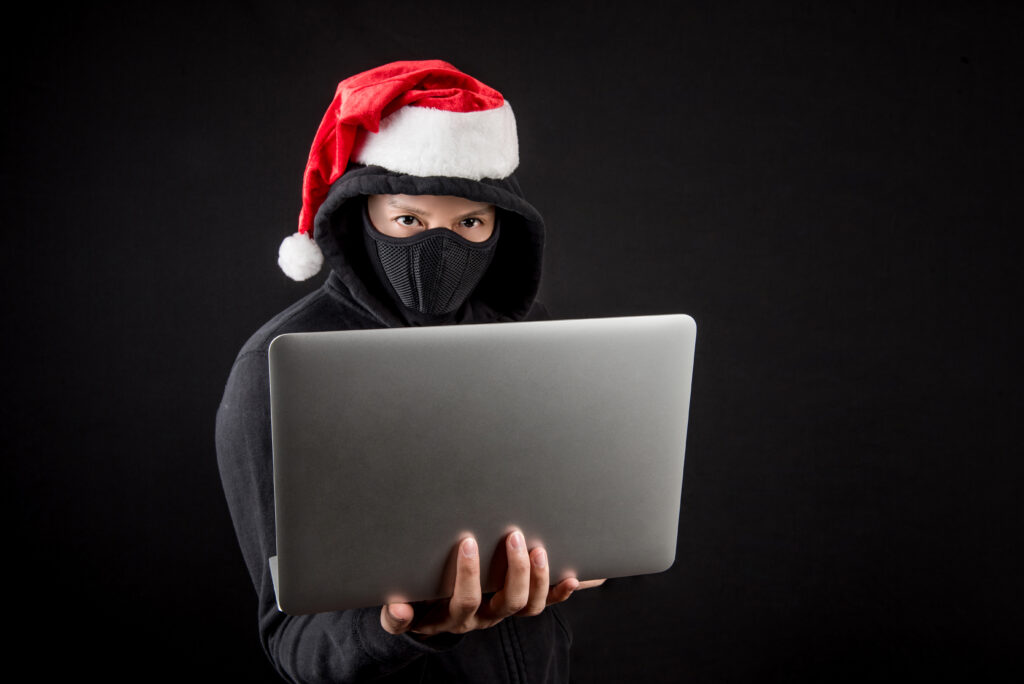 Shopping Scams on Social Media Platforms
Beware of posts on social media offering gift cards, coupons, or "too-good-to-be-true" contests or holiday promotions. With the increase of ads on Instagram, Facebook, and other sites, a fake website may have made its way into the mix. Friends may share a link to a scam unknowingly or unintentionally, so take extra care screening circulating posts on your feeds. Always double check the authenticity of the website before giving any personal or payment information. Your data may fall into the wrong hands otherwise.
Gift Card Fraud
Gift card promotions may also get thrown into social media scams. This type of fraud usually comes up in the form of a survey, in which the victim is promised a gift card after completing it. Keep your eyes open for these fake surveys, as well as these other gift card scams:
Fake Gift Cards: It is rare to purchase gift cards for less than their full value. If you find that a gift card offer is a lot less than face value, then it's probably a phony promotion. Check the retailer or distributor to see if they actually have a sale on. Best to purchase directly from them.
Task for Reward: Avoid services or random contacts claiming that they will do tasks in exchange for gift cards. They'll specify the amount for the work, ask you for the gift card codes, and then you'll never hear from them again.
Gift Card Generators: Operators behind this "tool" claim that it will generate real gift card codes for consumer use. They take advantage of major retailers like Amazon, Xbox, PS5, and others. But there is no way these codes are real. And the generator will actually tell you it doesn't generate real codes! This is, of course, after you've filled out the surveys mentioned previously, which may have asked for your personal information. Don't download one of these generators. Keep personal and financial information safe and avoid the possibility of a malware infection!
Malvertising
Beware of links that come up in Google search results as you try to find deals on the web. Consumers are always quick to click on the first link that appears, even if it's an advertisement. But ads won't always lead you to the site you're trying to access. In fact, Malwarebytes reported an increase in malicious website registration around Black Friday. "Malvertisers" spoof legitimate links to redirect unsuspecting users to these suspicious sites. Clicking on one of these links typically redirects to a tech support scam page. This "browser hijacker" page "locks up" your PC, scaring you with a loud, fake audio warning. To regain access, it tries to get you to urgently call a phone number for assistance. Don't call the number and don't let anyone remotely access your computer. The site you're redirected to might lead you to malware. Even worse, someone remoting into your device may install malware, lock up your data, and steal your information.
If this happens to you, don't hesitate to contact us! We'll thoroughly evaluate your computer, help remove viruses, and suggest the perfect security solution for your needs.
Charity Scams
Last, but not least — charity fraud happens all year-round, but unfortunately rises during the holiday season. Seasonal giving scams are harder to keep track of because of the lack of oversight, short time span, and wide public reach. Kind people who think they're donating to real charities are instead taken advantage of by scam artists. Their contributions to the less fortunate or end-of-the-year tax-deductible gifts become someone else's profit. Notably, since March of this year, scammers have been taking advantage of the invasion of Ukraine. Via a fake email or website, they ask for donations in the form of cryptocurrency. If you really want to help a charitable organization, research the charity before donating. Be especially wary of those requesting for payment in a nontraditional way (i.e. cryptocurrency, NFTs, etc.). Stay alert and be diligent when it comes to solicitation via telephone, email, fake social media accounts, and crowdfunding sites. Give, but give safely!
With these tips in your toolbox, we at Orange County Computer wish you and your families a safe and fun holiday season and a Happy New Year. If you or someone you know falls victim to one of these scams, whether during the festive season or throughout the year, please contact us at (949) 522-7709. We are more than happy to help you thoroughly diagnose your device, remove viruses, unwanted programs, and restore it to health. Our team can help you implement some of the best security solutions available, including our private cloud environment! Contact us today!