Everything You Need to Know About Managed IT Services Pricing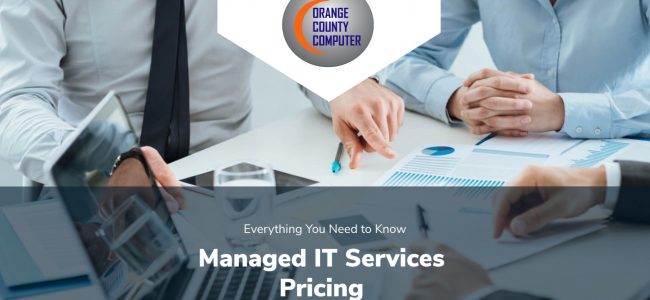 The complexity of today's IT systems means businesses are increasingly turning to managed IT services. Outsourcing IT can offer a lot of value, flexibility, scalability, and cost savings, to name a few. But are you receiving the value you expect?
In this guide, we'll give you an overview of managed IT services pricing and the different pricing models and give you tips for getting the most out of your IT services.
"Understanding IT costs is not just about saving money; it's about investing in the right areas for long-term sustainability," says Deborah Walck, Chief of Network Operations.
Breaking Down the 5 Managed IT Pricing Models
Pricing Model
Pros
Cons
Flat-Rate/Fixed
– Predictable, stable monthly cost
– Eliminates uncertainty of hourly rates.
– Need to review services within the package to ensure alignment with requirements.
Tiered Pricing
– Flexible option with multiple service levels.
– Can choose based on business needs.
– Must ensure chosen tier includes necessary services like remote support or overnight helpdesk.
Per-User Pricing
– Suitable for organizations with variable user count.
– Charges based on user count.
– Might not be cost-effective for businesses with a small number of high-demand users.
Per-Device Pricing
– Transparent view of anticipated costs.
– Cost-effective for limited technical assistance.
– Might not be suitable for businesses with fewer devices but higher technical demands.
A La Carte Pricing
– Customizable based on business needs.- Fosters budget clarity.
– Might require more time to select and customize services, potentially leading to oversight of essentials.
1. Flat-Rate or Fixed Pricing
With flat-rate pricing, you can plan your budget with confidence, assured of a steady monthly expense. Yet, it's essential to carefully review the services within the package to ensure they align with your unique requirements.
If you are looking for a predictable, stable monthly cost, flat-rate pricing is a great option. It eliminates the uncertainty of hourly rates that you get with break/fix services and allows you to budget for the future confidently.
Get an IT Partner That Can Anticipate Your Needs!
See why more businesses choose Orange County Computers
Learn More
2. Tiered Pricing
Tiered pricing provides a flexible option, allowing you to choose a service level that matches your business needs.
Typically, this approach divides services into basic, intermediate, and advanced levels, each with its distinct range of features and services. Do make sure the tier you opt for includes services that you need, such as remote support, vendor management, or an overnight helpdesk.
3. Per-User Pricing
Opting for a per-user pricing model can be a wise decision, particularly for organizations with a variable number of users.
Under this system, charges are determined by the user count, offering a versatile way to handle IT expenses. You pay based on the number of users per month rather than for each device.
4. Per-Device Pricing
With the per-device pricing approach, expenses are based on the count of devices being managed.
For organizations that utilize a wide array of devices, this model provides a transparent view of anticipated managed IT expenditures. If you need limited technical assistance for a small number of devices, this pricing model can be a cost-effective option.
5. A La Carte Pricing
Creating a tailored managed IT services price list lets you select the services most relevant to your business activities. This pick-and-choose approach fosters clarity and helps you distribute your budget more efficiently.
Managed IT Services ROI Calculator
Since every business has unique requirements and IT environments, providing a managed IT services rates list is infeasible. Instead, we've made this managed IT services calculator that will help you understand your IT needs.
Managed IT Services Cost Calculator
Note: The calculator above uses hypothetical values to prepare a demonstrative estimate. The calculator does not reflect Orange County Computers' pricing. For an accurate estimate of how much your managed IT services will cost, get in touch with our team.
What Factors Affect Managed IT Costs (and How You Can Get the Most Value)
Now that you know about how much managed IT services can cost, let's delve into the factors that will impact how much you have to pay. These will help you identify the right pricing model for your business, choose the right services, and ensure you aren't being bundled with services you don't need.
Scope of Services: The range and depth of services you require to play a significant role. Basic monitoring will cost less than comprehensive management, which includes cybersecurity, backup, and disaster recovery.
Business Size and Complexity: A startup with a handful of devices will have different needs and costs compared to a large corporation with multiple branches and hundreds of devices.
Level of Expertise Required: Advanced IT challenges, such as setting up intricate networks or ensuring compliance in regulated industries, might necessitate higher expertise and, consequently, higher costs.
Hardware and Software: The types of devices, systems, and software your business uses can influence costs. Legacy systems might require specialized knowledge, while newer technologies might demand regular updates.
Contract Length and Terms: Longer contracts might offer discounted rates, but it's essential to ensure flexibility for changing business needs.
Resources you might like:
Looking for a Windows 10 Download? You're Out of Luck!
Tips for Maximizing Value 
Assess Your Needs: Before diving into any agreement, have a clear understanding of your IT requirements. This ensures you're not overpaying for services you don't need.
Research Providers: Not all IT service providers are created equal. Look for those with a track record of excellence, transparent pricing, and positive client testimonials.
Negotiate: Many providers are open to negotiation, especially if you're considering a long-term partnership. Don't hesitate to discuss terms that are favorable to your business.
Regularly Review Services: As your business evolves, so will your IT needs. Periodically review the services you're receiving to ensure they align with your current requirements.
Make Informed IT Decisions for Your Business
Harnessing the right pricing structures can significantly impact your bottom line and catalyst your business forward. Join forces with Orange County Computers and set forth on a path to streamlined and effective IT oversight.
Connect with us now for a complimentary consultation. Together, we'll assess your IT requirements and devise a strategy that balances efficiency with affordability.
Trusted Managed IT Services in Orange County
You might also like