Annual Back to School Kick-Off Event
Back to School Repair Offers & Discounts!
It's Back to School season and Orange County Computer®  is teaming up with South County Outreach to provide back to school supplies to children in need.
Kids are headed back to school and parents are scrambling to arm them with all the necessary tools to succeed in the upcoming school year. Just as school supplies are a necessity, so is technology. Buying a brand new computer is costly and it can dent your pocketbook. This is where Orange County Computer® comes to the rescue. We want to help parents ensure that students are using their laptops and desktops with proper antivirus protection, that they are working with a healthy hard drive and proper software licensing. A system failure during mid-terms or finals can be catastrophic and we can help decrease the likelihood of this possibility altogether! Allow us to help your students succeed!
Systems can be brought into our Tech Repair Center for a Tune-Up, where our technicians will provide an array of system tweaks that will increase speed and processing times. A member of our Technical Team will install critical system updates to protect your student's computer against security threats.
Spend 80% less on a System Tune-Up rather than spending hundreds on a new computer by bringing systems into our Tech Repair Center. We'll get it running at its original speed or faster!
Our Complete System Repair Services include:
Hard Drive Failure/Replacement
Data Recovery – We are one of the few companies that can successfully recover data from damaged hard drives when the majority will give up. We perform Level 1-3 Recovery Services. Bring your drive to us for a proper diagnosis before you pay thousands of dollars in recovery costs.
Virus Repair/Removal
Software Licensing Solutions
Hardware Replacement (power supply, fans, motherboards, memory, etc.)
If repair costs exceed the value of the system, we will let you know! We also offer new and refurbished systems to meet your needs!
One of the greatest benefits in choosing Orange County Computer® as your dedicated computer repair company is our outstanding service and superior turn-around time on repairs. We understand that technology can be your life-line. Depending upon the extent of your repair, you can have your system back that SAME DAY or within 1-2 days.
This Summer, Orange County Computer® is supporting South County Outreach  in their goals to provide back to school supplies to children in need.
For our Annual Back to School Promotion we're asking our Customers for 3+ items on our prefered supplies list.
Receive $10 Off "LABOR" when you submit back to school supplies while checking your system in for repair.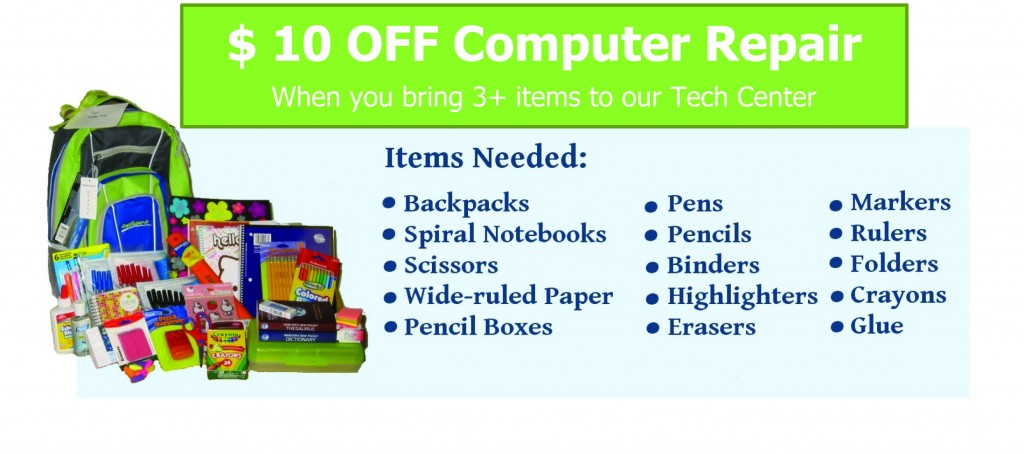 Thank you for supporting our "Little Clients" with much needed backpacks & schools supplies during these economic times.  For more info go to OrangeCountyComputer.com
Visit our Drop Off Center Located at:
21092 Bake Parkway Suite#100
Lake Forest, CA 92630
(949) 699-6619
Deborah is the Operations Director at Orange County Computer and has been with the company since 2004.