When Disaster Strikes…Protect Your business using Cloud Solutions.
Every year, California seems to suffer from a chain of natural disasters, whether it be wildfires, earthquakes, or something else. The rest of the country is no exception, either. The Santa Ana Winds have steadily increased in intensity to a strong 90 mph in some areas, making the already existing wildfires even worse. SoCal Edison has even begun preemptively shutting off power in certain "high-risk" areas to prevent fires from spreading even further. Despite efforts, the Kincade, Getty, Burris, Hill, Saddle Ridge, and Easy fires have burned 80,000 acres of land and are still less than 50% contained. The preemptive power shut off has left more than 400,000 homes without electricity since Wednesday. Hurricane Dorian hit the Floridian shores a month ago, leaving 70,000 people homeless and more than 400 still missing. Tropical Storm Imelda has totaled over $2 billion in damages, to residential, commercial, and industrial districts alike. With historical heat on the west coast and frigid temperatures in the east, it seems like there's no place safe enough to keep your important data. That is, if you don't know about the amazing security and safety of the cloud. When disaster strikes, how will you protect your business? Implementing one or more Cloud Solutions is the best choice!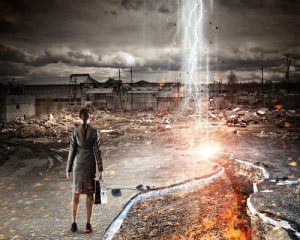 What if your company wasn't crippled from the inside out because a computer on the first floor was shorted by flooding? What if you could be back up and online in minutes with any PC and internet connection, anywhere in the world? That is the power of the cloud. Your company could invest in traditional means of Data Recovery, with multiple onsite and remote backups, redundant backups, and backup PC's, but going from complete data loss to functionality can be costly and take up to 72 hours! In the long run, three days may not seem like a large period of time, but consequences such as missed sales, delayed deadlines, and regulatory fines are enough to make any accounting department shriek in horror. A Cloud Solution can have you back online the same day a catastrophic failure occurs, with no loss of data to boot.
OCCloud9 is the Cloud Services Division of Orange County Computer. Our Cloud Solutions offer undeniable advantages that will put you ahead of the competition. We offer 24/7 support, adhere to regulatory compliance requirements for HIPAA, AICPA, SOC and offer custom tailored Cloud Solutions for your business's exact needs. Your data is routinely and continually backed up to our ultra-secure remote location, making restoring your "lost" data much easier!
The next time the unthinkable happens, rest easy knowing that we've got your back. Even if your employees can't make it to work, they can get online and working with virtually any computer or phone with an internet connection. Reach out to us to explore the various cloud solutions OCCloud9 has to offer and how we can provide you with greater business continuity in the event of disaster.